At All Star Upholstery, with one look you will see our business 'is' creating and recreating award-winning work…
Traditional/Original Hot Rod – is typically any vehicle manufactured post World War II yet prior to 1960. Hot Rods are modified for higher performance and to increase speed while maintaining the traditional/original appearance.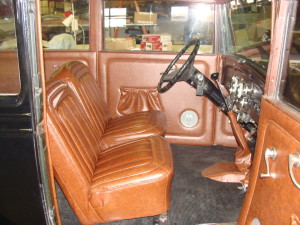 Kustom Car – is a particular style of custom car which became popular during the 1950's. They are vehicles modified with the various customizing styles used from the 1930's to the early 1960's. The term originated with George Barris.
For many years now, All Star Upholstery has been recreating Original/Traditional Hot Rod and creating Kustom car upholstery using the same traditional techniques and skills used back in the 1940's, 50's and 60's. At All Star Upholstery, we know the common and uncommon elements necessary to create the 'Rod' or 'Kustom' looking upholstery you have in mind for your Hot Rod or Kustom car such as; Tuck and Roll and Button Tuck.
Tuck and Roll – "Pleats made with a hidden stitch" This is a style of upholstery comprised of sewing material with straight pleats, stuffing the pleated pockets with filler and is sewn to the foam from the back side so as hide the stitching from view. There are several ways in which to accomplish this process; each resulting in a completely different appearance. An example of this would be for us to use a thick foam with channels cut in giving the pleats a deep and very rich look and feel. If you tell us exactly what style you have in mind for your car we can recommend which upholstery processes would work best.
Button Tuck/Button Tufting – is a style of upholstery using buttons to hold the material down in rows which are staggered with either folded material or sewn seams between the buttons. From furniture and horse drawn carriages, to early model automobiles and today's Kustom cars and hot rods, this style of upholstery has been used for literally hundreds of years due to its rich and elegant appearance.
Services Offered:
Seats
Door Panels
Trunk Panels
Headliners
Carpet
Vinyl Tops
Carson Tops
Convertible Tops
Soft Roof, Closed Car
Custom Trim
Chroming
Wiring
Materials Offered:
Vinyl
Fabric
Leather
Wool Carpet
Mouton Carpet
Rubber/Vinyl Flooring
Vinyl Topping
Convertible Topping
1932 Chevrolet
1932 Ford Roadster
1932 Ford
1936 Ford
1940 Ford
1950 Mercury Convertible
Mazmainian Corvette
Mercury Woody Wagon