Just as with marine carpet installation, we, at All Star Upholstery, are exceptionally knowledgeable and experienced installers of marine flooring. Over the last two decades we have installed countless marine floors, and have developed and utilize the special techniques required for flawless and seamless custom installations in all makes and models of boats and yachts.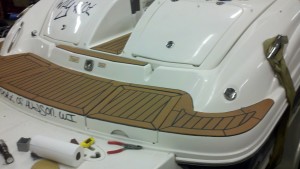 PlasTeak Teak & Holly marine vinyl flooring is a very popular choice for interior cabin use and all but 2 ( Satin & Glossy) of the 9 available color options have recently been approved for use by the U.S. Coast Guard and the International Maritime Organization.
*If you are environmentally concerned, it may interest you to know that PlasTeak products are made from recycled plastic products.
PlasTeak Color Options:
Teak & Holly
Teak & Holly Satin
Teak & Holly Glossy
Teak & Wild Cherry
Rosewood
Teak Timber
Maple
Maple & Teak
Walnut & Honey
PlasDeck is a synthetic boat, yacht and marine teak outdoor decking that provides the sophisticated and classic look of teak without the costly and time-consuming maintenance required by that of natural wood teak. PlasDeck has the highest possible UV protection against fading, is specially formulated to resist drying and cracking over time and has the advantages of antifungal inhibitors and superior adhesion.
PlasDeck Color Options:
Traditional
Cool
Natural
Glowing
Ash
Aged
Silver Metallic
Gold Metallic
Slate & Ebony
Other Marine Flooring Options:
Nautolex Vinyl Flooring
Loncoin Marine Flooring – for superior slip-resistance
Authentic Teak Wood Custom Installations