A Carson Top is a removable, one piece, non-folding, padded and upholstered top typically made for and used on Kustom Cars and hot rod automobiles. Bob Houser designed and invented the Caron Top in 1935. They are often referred to as having a 'rakish' appearance; dashing, stylish, disreputable, very cool…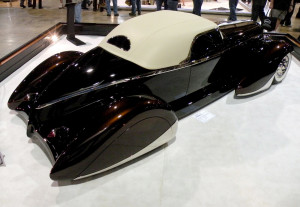 The foundation and defining aspect of the Carson Top is the metal framework consisting of a formed and welded skeleton. Once the basic shaping of the framework is completed, a layer of chicken or aviary wire is attached. This will prevent the padding from sagging. Next, the top is covered with burlap, padding and finally the outer canvas. The outside material is usually convertible top sports material. The tops interior varies according to personal taste. Commonly, the headliner in made to coordinate with the car's upholstery and there are a variety of window styles to choose from such as standard and wrap-around and made of either glass or plastic.
At All Star Upholstery we have the expertise, ingenuity and the best tools available to methodically perform the work in the manner required for the smooth and cool appearance you're looking for in a Kustom Carson Top.
The price of a Carson top is fully dependent on your car and your choice in windows and upholstery styles.