What can be conceived can be created…"
Over the years, Ferrari collectors and enthusiasts have continually called on All Star Upholstery to restore and reupholster their interiors back to showroom new elegance and exquisite beauty. We have the knowledge, skills, proper equipment and materials to re-trim Classic Ferrari interiors back to original design specifications, looks and colors. This is often a very delicate process, one which most upholstery shops cannot undertake, or if they do, cannot complete precisely.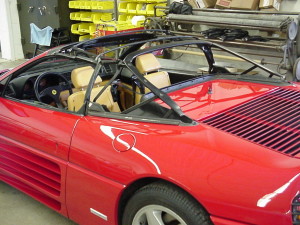 Many Ferrari interior restorations also require the repairing of unseen components at the time of restoration to ensure the upholstery will stand the test of time and All Star has the decades of professional experience to properly augment those components.
Over 22 years of regularly working on Ferrari interiors has made All Star Upholstery the number one upholstery shop in the Midwest for the most authentic of Ferrari factory interior re-creations.
All Star Upholstery also services and repairs Late Model Ferrari interiors. We, further, have the ability to custom upholster interiors with exotic materials, custom colors, threads, seams and seat inserts.
Ferrari Upholstery Services Offered:
Seats
Dashboards
Steering Wheels
Carpet
Door Panels
Trunks
Headliners
Console
Top Boot
Custom Tonneau Cover
Horse Embossing
Repair of Convertible Top Frames and Top mechanisms
Ferrari Materials Available *Original Ferrari Materials/Colors or Custom Materials/Colors :
Leathers

Fabrics

Vinyl

Custom Embroidered Ferrari Floor Mats
*We have the resources to locate Vintage Ferrari and hard to find replacement parts